Willerby Works Medieval Magic on Knights Village
24 August 2017
Visitors to Warwick Castle can now enjoy an immersive residential experience by spending the night in one of 28 new medieval style lodges designed and manufactured by Willerby Innovations.
Set in the grounds of the historic Warwick Castle and managed by Merlin Entertainment, the popular family theme park is open every day apart from Christmas Day and brings history to life with its interactive attractions including Time Tower and The Castle Dungeon along with a whole host of historical characters.
The castle's Knight's Village, located in a picturesque woodland grove on the river bank, provides the perfect setting for families to enjoy an exclusive sleepover at the park. Last year, Warwick Castle commissioned Willerby Bespoke, a division of Willerby Innovations, to design and build 28 new lodges to expand its facilities.
Willerby designed and manufactured 24 single-storey Woodland Lodges and four larger two-storey Knight's Lodges which were craned over the treetops and into place in the heart of the forest. With a strict timescale for delivery before peak season, Willerby's offsite service provided the ideal solution, saving time and keeping disruption to a minimum for staff and guests alike during the installation on site.
Both the Woodland Lodges and Knight's Lodges were themed to complement the medieval style of the Knight's Village and create a memorable place for families to stay. The Woodland Lodges feature a double bedroom, two bunkbeds, an additional pull-out bed and a cot, along with a wet room with a shower, cable television, free Wi-Fi and temperature control. The larger Knight's Lodges can sleep up to seven guests each, with a mezzanine level sleeping area as well as an open-plan lounge with a sofa bed.
Phil Parks, lead commercial manager for Willerby Innovations said:
"This was a fantastic project to be involved with as it offered us the perfect opportunity to be creative and showcase what the Willerby Bespoke team can do. It is projects like this that have helped make Willerby synonymous with innovative design, stylish interiors, and above all, exceptional quality standards."
The village opened last summer, and since then families and groups have been staying in the themed lodges that sit along the riverbank, while enjoying priority entrance to Warwick Castle itself, and evening medieval entertainment for all the family.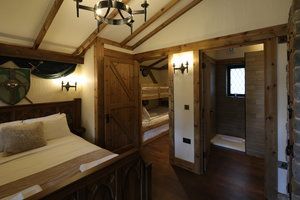 For more information about Willerby Innovations please visit willerbyinnovations.com
To find out more about Warwick Castle please visit warwick-castle.com
Feeling inspired?
Want to find out more about Willerby Innovations and how we could help you create something really special for your park, campsite or attraction? Contact us today!
Phil Parks, Lead Commercial Manager
pparks@whh.co.uk
07702 516174
If you can dream it, we can build it! #creatingdreams