Unveiled and open for business – the stunning makeover project that makes caravans cool
08 July 2021
A unique caravan revival project launched by three interior designers to promote the great British staycation to new markets has been unveiled and is open for business.
Club Jupiter was established by friends Anna Hart, Emma Jane Palin and Whinnie Williams to champion UK holidays and make caravans cool.
The project was born during lockdown from a realisation that more people would be holidaying in the UK as a result of COVID-19 restrictions on foreign travel.
The trio bought a three-bedroom 2010-model Willerby BK Bluebird holiday home at Birchington Vale Holiday Park near Margate in Kent and spent months on giving it a complete makeover, with a distinct 70s twist.
Holiday homes market leader Willerby, based in Hull, supported the Club Jupiter team with the project to help promote a fashionable new image for the staycation and the final renovation has now been revealed.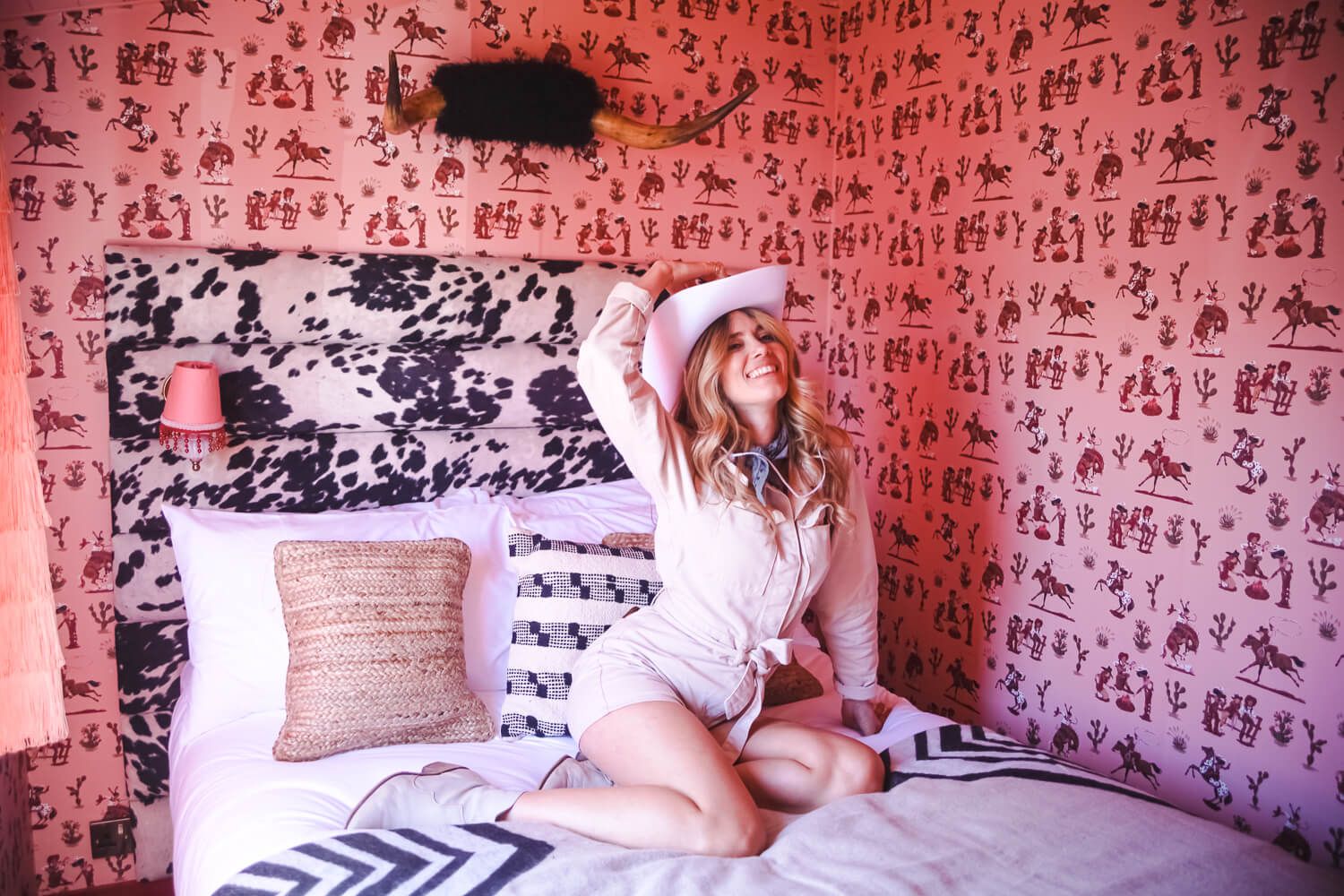 MAKEOVER: Whinnie Williams in the caravan bedroom she created for the Club Jupiter project
The result of the makeover is being called a "Pontins meets Palm Springs" holiday home, pairing a high-end mid-century aesthetic, inspired by the Californian desert resort, with a classic British seaside caravan.
The living and bathroom areas are inspired by Palm Springs, Americana, and fifties and sixties vibes, while the three friends have each designed their own bedroom reflecting their individual personalities and tastes.
Interiors stylist Emma said: "Renovating our preloved Willerby BK Bluebird has been the perfect lockdown project.
"We wanted to find an older model and show people how the humble caravan can be thoughtfully transformed into a glamorous holiday home.
"Willerby are a great British brand with an amazing heritage and celebrating their 75th anniversary this year, so this Bluebird is the perfect fit. That being said, we're also excited about what can be done with newer models too."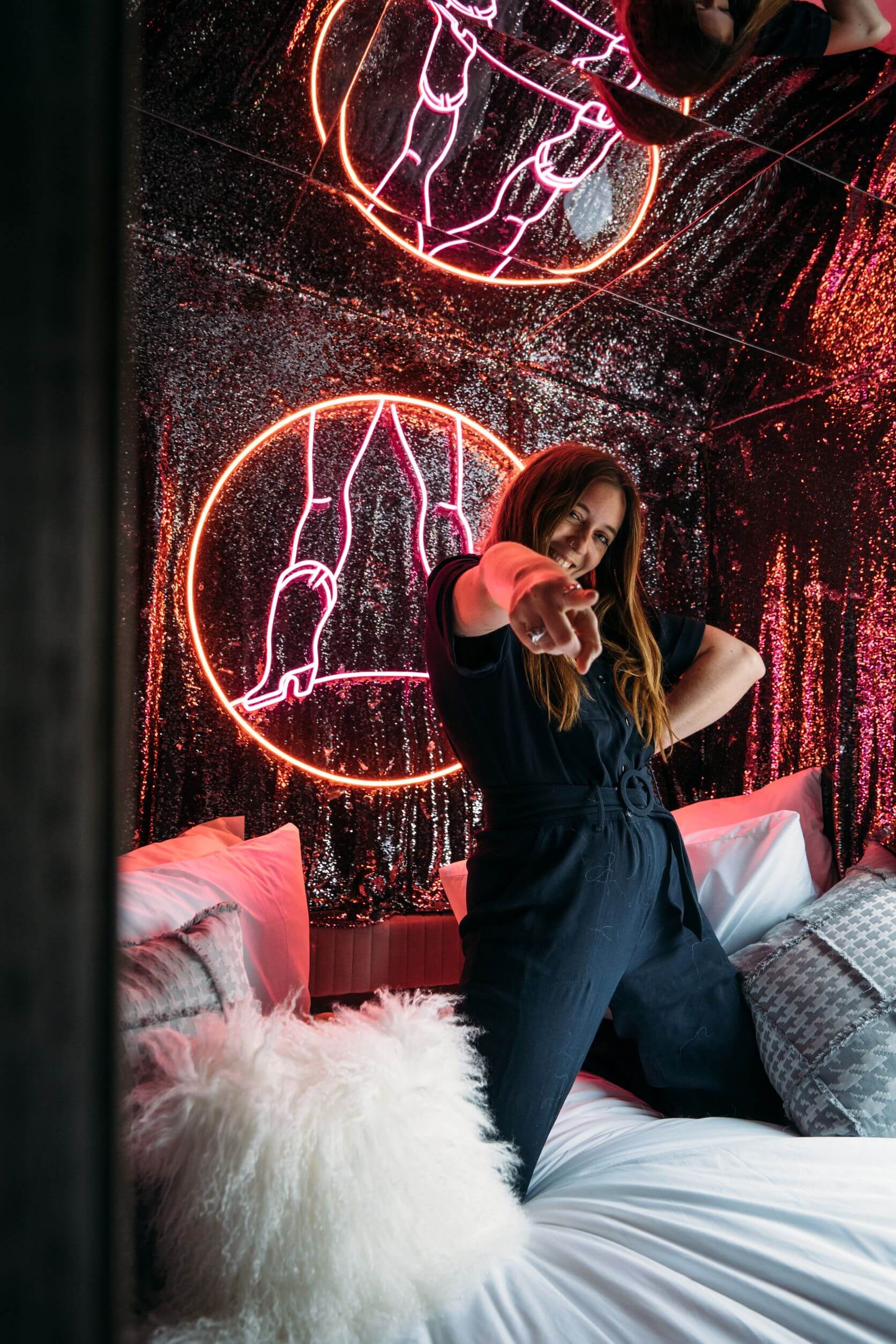 STYLISH: Interiors stylist Emma Jane Palin in her bespoke bedroom
Travel writer Anna said: "We all have nostalgic memories of caravan holidays as children, and now we've put our wildest design aspirations into a beige and slightly battered holiday home at our local caravan park.
"British caravan holidays are long overdue a revival – they offer an achievable form of adventure and escapism."
Progress on the makeover has been documented on Club Jupiter's Instagram account, which gained over 2,500 followers in just 24 hours when it launched in late October. It currently has more than 9,000 followers, including influential design bloggers, fashion influencers and interior designers.
The team has been posting "sneak peeks" as the renovation has come together and the friends are now excited to reveal the final results.
Whinnie, who is currently filming BBC3 renovation show Flat Out Fabulous, said: "We've upcycled as much as much as possible, sourcing vintage fabrics from our favourite junk stores around Margate, scouring eBay and Facebook Marketplace, and we even found our brass kitchen sink in a skip!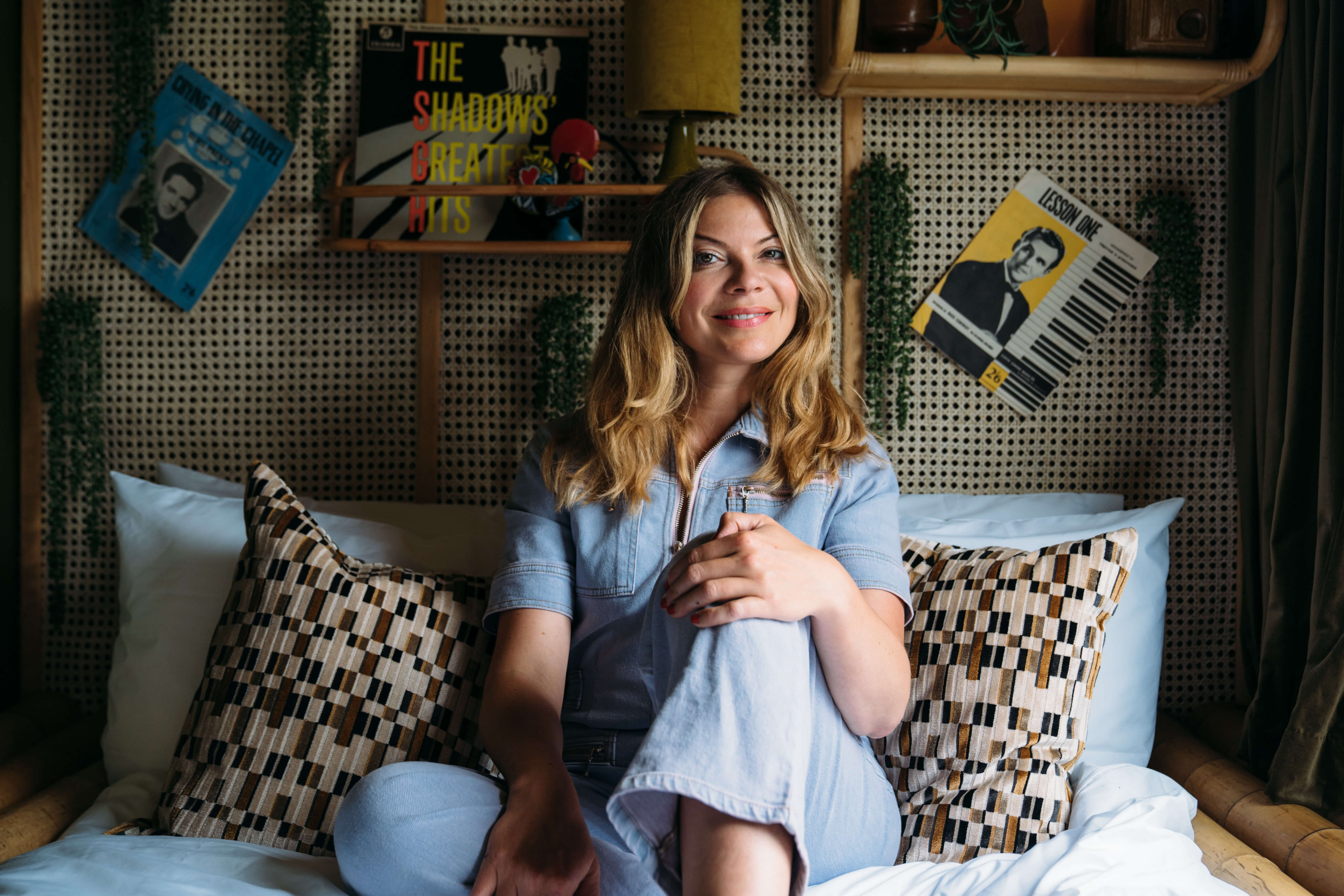 RENOVATION: Travel writer Anna Hart in the bedroom she created in the Club Jupiter caravan
"We've tried to DIY things as much as possible to show people that anyone can bring Hollywood vibes into even the smallest of spaces."
Caravan holidays are booming in popularity and Willerby has reported a 70 per cent increase in new holiday home sales, with strong demand from a new, younger generation of holidaymakers.
Chloe Lidster, Head of Marketing at Willerby, said: "It's been really exciting to see this unique caravan makeover by Anna, Emma and Whinnie come together and the results are amazing.
"We're delighted to be working with Club Jupiter during our 75th anniversary year, when we're celebrating our rich heritage and also looking to the future with new developments and innovations.
"At a time when the UK is experiencing an unprecedented staycation boom, we're seeing more and more people embracing the holiday home lifestyle and this project is helping promote it to a new audience."