Top 10 winter accessories
01 March 2018
With Christmas out of the way and the January blues firmly set in, we all need a way to brighten up our lives - and what better way to do this than with some stylish accessories to make us look and feel good? Don't worry if you still have a few spare pounds to lose after Christmas.... accessories fit any shape and size so are the best post New Year investments to make!
Here's 10 of our favourite accessories to keep you warm, and stylish, this January.
An oversized blanket scarf is the perfect way to keep warm this Winter. It can be worn like a shawl, wrapped around the neck multiple times (for extra cosiness!) or why not add a belt to create a homemade poncho! Be even more on trend with a monogrammed blanket scarf - Notonthehighstreet have some great options.
Whether it's scientifically proven or not, we still believe that we lose a huge percentage of our body heat through our heads. To trap in your heat this Winter we recommend a bobble hat - yes, they'vetop ten winter accessories been around for a few years now, but they are still a winner when it comes to practicality and style. Accessorize have lots of options but this Teal Yarn Pom Beanie is a winner for us!
Tights are a great way to add a pop of colour to a Winter outfit. We love these Mustard Hand-Printed Bee tights featuring a firm Willerby favourite. Pick yours up here - there's a few subtler colours and patterns if yellow's not for you!
A good pair of boots will see you through the harshest of Winters, but they can be expensive. Chloé Loves To Shop; a fashion, lifestyle and beauty blogger; recommends these Black Stud Buckle Ankle Boots in one of her latest blogs, they're a steal at only £25.99 and who doesn't want to take inspo from a fashion blogger?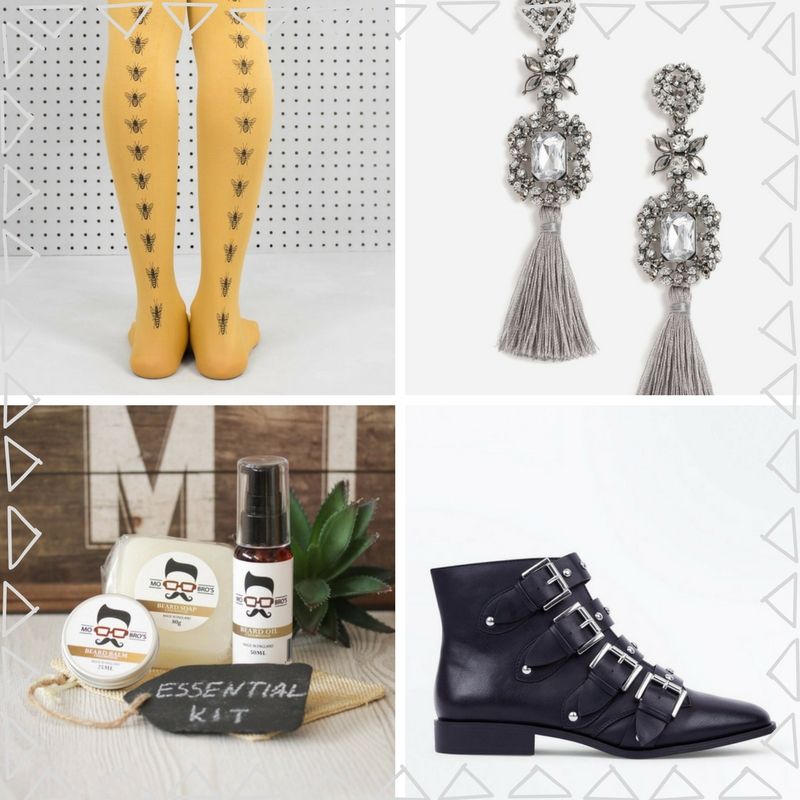 Accessories are important for any woman's wardrobe, but we need to look after our skin in Winter too! Cold weather and wind can quickly dry out our skin, so using a rich barrier cream to keep out the chill and retain moisture is important. Kiehl's Ultra Facial Cream is high up on Vogue's list for Winterproofing your skin, they quote that 'Arctic explorers and climbers of Everest' use it for its ability to prevent moisture loss in extreme conditions.
It's very rare that a good quality handbag only lasts one season so it's worth investing in a decent one. Camera bags are bang on trend at the minute with everyone from High Street stores to top end brands having their own version. We love the Gigi Bag from Aurora London – yes, it's pricey, but it's real leather, and is guaranteed to become a staple for years to come.
To quote The Guardian back in October – 'Earrings – once the garnish of an outfit – are now the main course' and we shouldn't stop adding sparkle to our look just because Christmas is over. If you're wanting a real statement, these Topshop Grey Stone & Tassle Drop Earrings are a great choice. For a more subtle look, try M&S Charmy Tassle Drop Earrings – a pretty addition to any outfit.
Let's not forget about the men in our lives – they need to look and feel good too! With the beard trend showing no signs of slowing down and male grooming at an all-time high, it's important to keep those wiry masses trimmed, smooth and smelling good. Recently seen on Dragons Den, Mo Bro's have a great selection of products to give men the confidence to 'flaunt that facial finesse'. Hurry! They currently have a Dragons Den offer to save 10% off your order.
A good pair of slippers is essential to keeping us warm at this time of year, especially for those evenings when we want to curl up on the sofa with a book and a cup of tea. These Fringed Moccasins from Next come in red and yellow, adding a spot of brightness to the dullest of days.
It's not quite Summer yet but sunglasses are just as important in the Winter, especially for those long commutes on bright sunny days. The style you choose, really does depend on your face shape but we don't think you can go wrong with a good pair of Ray Ban's.
Happy shopping!