Following the Footsteps of Poldark: 8 Cornish Walking Spots
08 April 2021
What do you get when you cross a Cornish coastline and an epic TV period drama? The perfect excuse for a Poldark walking holiday, of course!
The popular BBC 1 dramatisation of Winston Graham's post-war novels has kept audiences fidgeting in their seats for five seasons. It follows the story of protagonist Ross Poldark, who returns home after the American Revolutionary War to rebuild his life in, you guessed it, Cornwall.
Here we see him encounter love, enemies, and a whole treasure trove of landscapes that you can visit on the South West Coast Path. From Porthgwarra to Padstow, there are ample opportunities to amble through old mining estates, climb craggy cliffs, and explore hidden coves. This idyllic part of the country is one gigantic Poldark set!
If you're considering Cornwall as a potential holiday home spot, try using our Find A Park tool. Here you'll find a list of parks that take in the best of the Cornish Coast.
(Photo by Rachel Claire from Pexels)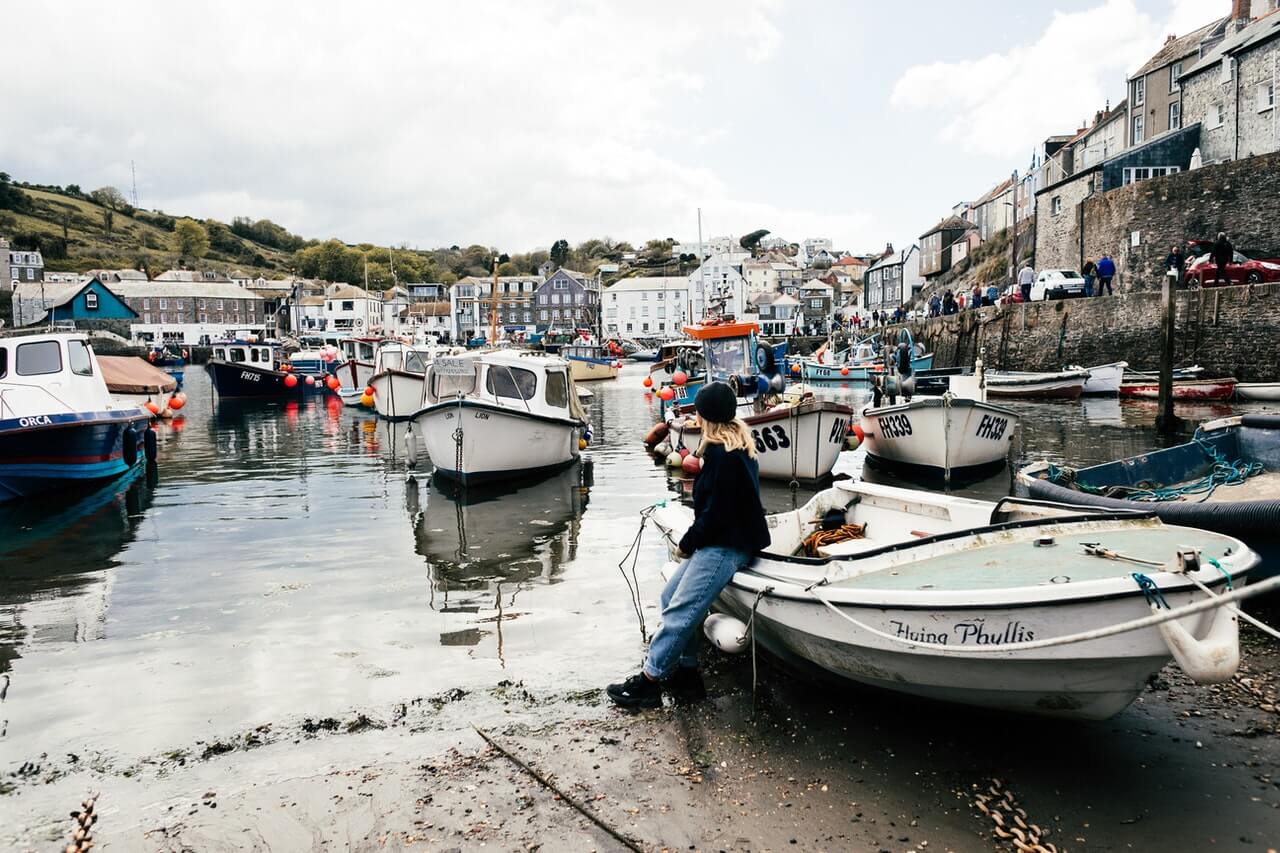 Charlestown
Location managers must have thanked their lucky stars when they stumbled across Charlestown, a historic working harbour naturally dressed in tall ships and Grade II listed granite quays. It posed as Poldark's 18-century Truro and features in countless shots throughout the series. You can see Charlestown's inner harbour in the background of Captain Andrew Blamey's Falmouth home — the place he and Verity Poldark eloped to in Series 1.
Once upon a time, this quaint seaside village near St Austell had a population of only nine fishermen! Today, however, holidaymakers head to the sands in their hordes to stroll across this tiny slice of the S W Coast Path. Among all the fanfare, Charlestown surprisingly remains a working harbour for China clay exports — and you can learn all about its history at the Shipwreck Museum. There's also some behind-the-scenes footage of the show at the photographic exhibition.
(Photo by Vincent Wright on Unsplash)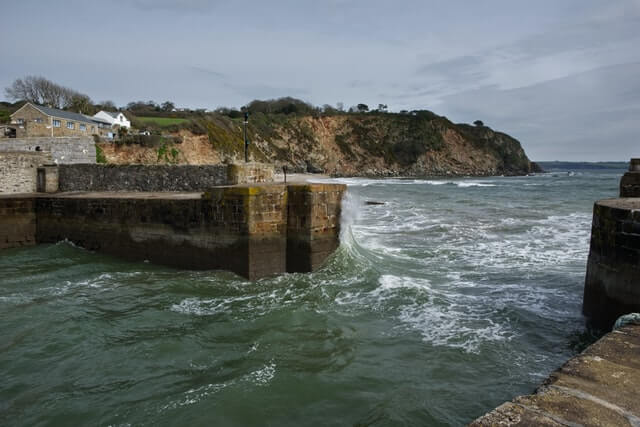 Porthgwarra
Perched between Land's End and Porthcurno is the tiny fishing hamlet of Porthgwarra, situated in St Levan. This is about as far west as you can go without falling into the Celtic Sea and is famous for its picture-perfect coves.
Porthgwarra is part of the 5000-acre St Aubyn Estate and, for many years, was relatively unknown by outsiders. That was, however, until Poldark's makers earmarked the town's idyllic azure waters as the perfect backdrop. Fans of the show might remember Ross Poldark plunging into these waters for an early-morning swim. It was also a filming location for the humongous pilchard catch at "Nampara Cove."
Follow the S W Coast path from neighbouring Porthcurno. You'll find plenty of opportunities to rock pool and explore hidden tunnels with family in one of the UK's most serene settings. Birdwatchers also flock here to spot red kites and honey buzzards hunting over the granite boulders — so pack your binoculars!
(Photo by Visitcornwall)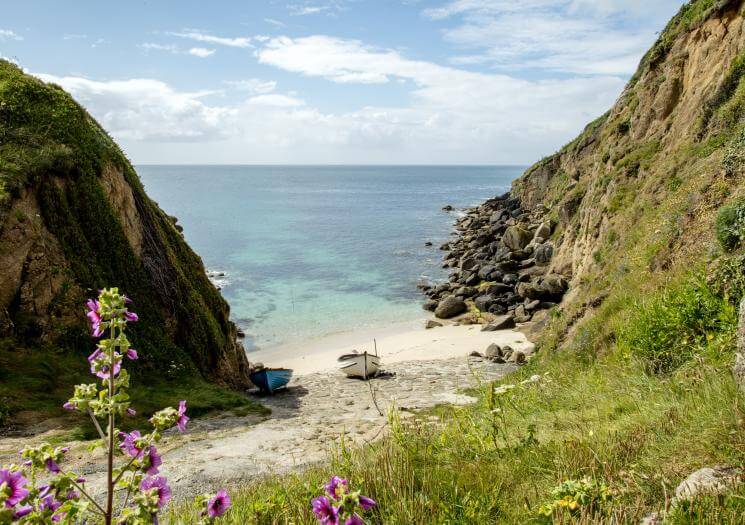 Bodmin Moor
Heading to North Cornwall? Put Bodmin Moor at the top of your bucket list. This 200-kilometre stretch of remote, granite moorland has a weather-beaten aesthetic fit for an 18-century costume drama.
Among the prehistoric hut circles, marshy valleys, and protected wildlife are several shooting locations used in Poldark. These include exterior shots of Ross' slate-and-granite cottage in fictional Nampala and the towering tors used for horseback scenes. Stroll up Berrycoombe Road to find Bodmin Jail, built in 1779 and used in Series 1 for filming the incarceration of Jim Carter.
Ramblers should take to The Copper Trail, a 60-mile walking route that circles around many of Bodmin's best natural landmarks. Its name comes from the copper mines scattered throughout the region, such as at Caradon Hill and Minions. Other stops on the trek include Crow's Nest, Whitebarrow Downs, Old Cardinham Castle, and a raft of other rugged spots to lose yourself in Poldark country.
(Image by Richard Norris from Pixabay)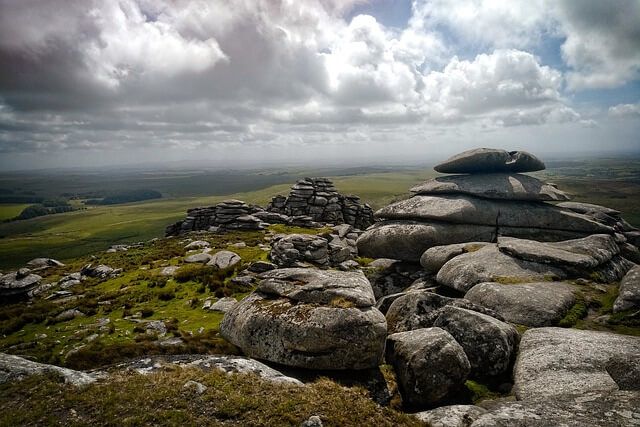 Botallack and Levant
While life in Botallack and Levant moves a lot slower than it did two hundred years ago, its gorgeous landscape offers the perfect backdrop for a period drama.
These two towns are situated on the 'Tin Coast' at St. Just. As you might have guessed, its name comes from the region's submarine mines that once produced tonnes of tin, copper, and refined arsenic. These ruinous mines and preserved engine houses provided the perfect coastal setting for Poldark.
Wheal Leisure, which Ross Poldark owned in Series 1, is shot at two of the most famous spots on the coast: Owles and Crowns. In the early 19th century, hundreds of men, women, and children came here to mine the base metals that brought such prosperity to the region. Thankfully, today the engine houses are protected as part of the Cornwall and West Devon Mining Landscape.
Take a trip to the Crowns, and reward your eyes with spectacular cliff-top views of the Isles of Scilly. The National Trust also has a brilliant walking route from Botallack to Levant that puts you up close with the best of this coastal heathland.
Want to learn a bit more about the Tin Coast? Head to the engine house at Geevor, which is now a visitor centre that boasts original shafts and legendary tours.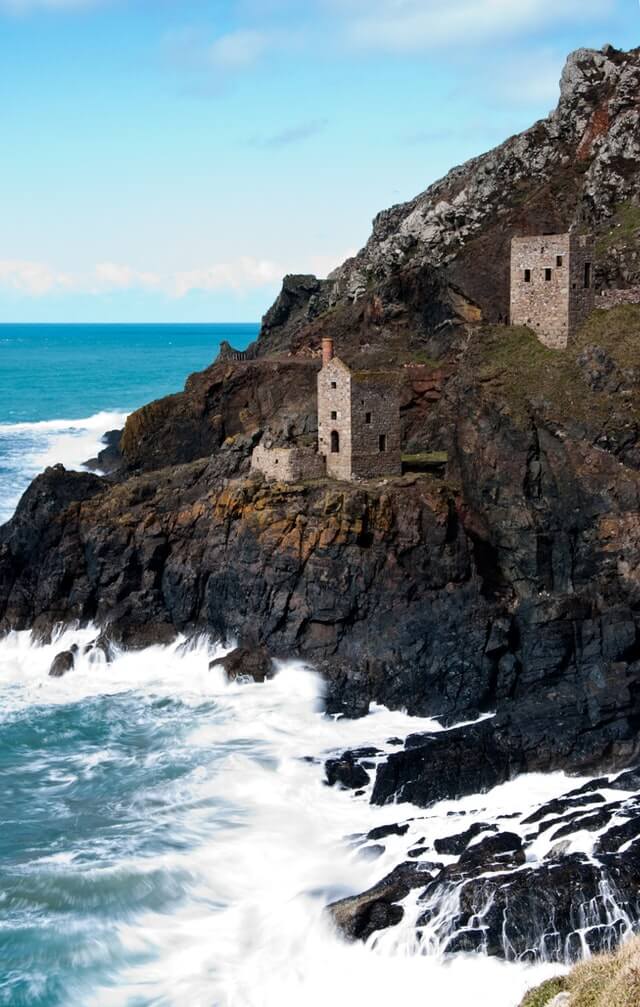 Padstow
This charming fishing port in North Cornwall sits at the end of the Camel Cycle Trail, taking in sublime views across the nearby estuary. The 14 beaches that surround the town look like they've been airlifted straight out of a Caribbean postcard — Mother Ivey's Bay, in particular.
While there hasn't been any Poldark filming in Padstow, nearby Stepper Point has heavily featured in the show. This verdant headland perches on the Atlantic Coast to the side of the River Camel. It's here that horse-drawn carriages raced along the cliff-tops in Series 3, and where scenes took place in Hawkers Cove.
If you're looking for some swashbuckling adventures of your own, take a ferry over to Rock Beach. Aside from the Hollywood hotspots frequented by the rich and famous, you'll find sands that stretch from Porthilly cove to Daymer Bay. So, there's plenty of room to stretch your legs and breath in some of that fresh Cornish air. Other must-see beaches include Harlyn Bay, Treyarnon, Porthcothan, and Constantine.
(Photo by Belinda Fewings on Unsplash)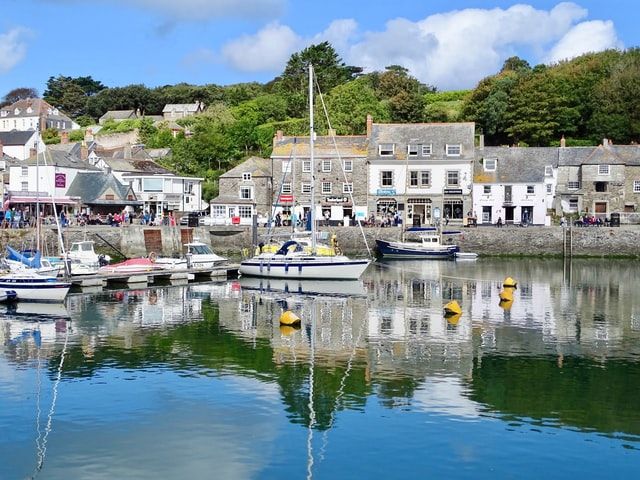 St Agnes Head
Fans of Poldark will notice that St Agnes Head is a double for Nampara Valley. That's because producers used the north-coast parish frequently during Series 1 and 2.
It's a wild landscape and one that offers a silent reminder of Cornwall's industrial past. Here you'll see weather-beaten engine houses, such as Wheal Coates, precariously perched on craggy cliff-tops, taking in sublime views over the beach at Chapel Porth. At low tide, these sands stretch to Lushingtons at the far end of Porthtowan Beach.
It's hard to imagine that St Agnes was once a light anti-aircraft range used during the Second World War. Nowadays, nature enthusiasts flock to the colourful carpet of heather and gorse to see nature at its most splendid. There's even the odd palm tree to take you by surprise!
If you've got your walking boots on, make a beeline for Trevaunance Cove and stroll down into the local village of Churchtown. You'll pass historical mining sites, coastal ruins, and get the chance to enjoy a few baked goods at the 'Sorting Office' coffee shop. The entrance to the SW Coast path is at the bottom of Rocky Lane.
(Photo by wearecornwall)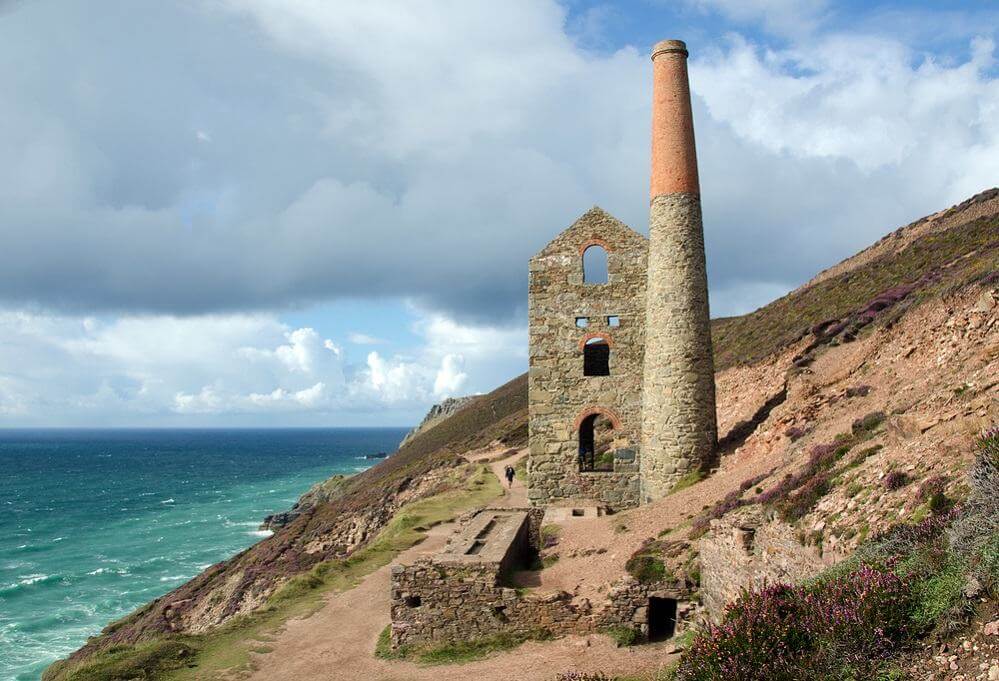 Gunwalloe
Can you remember the smuggler's shipwreck in the final episode of Series 1? Filming took place on the legendary Lizard Peninsula, more specifically at Gunwalloe Beach.
This south-west facing cove is a site of archaeological importance, surrounded by sweeping dunes and a medieval church called St Wynwallow. The 15-century parish is famous for its separate bell tower, set in rocky headland on the north side of the beach. It's for this reason Gunwalloe is also known as Church Cove. Head to these beautifully clear waters, and you'll notice a steep slipway still used for launching small fleets of fishing boats.
Walk around the corner from Gunwalloe Beach to find the peculiarly-named Jangye-ryn — more commonly known as Dollar Cove. Its name derives from the 17-century Spanish ship called San Salvador that lost its cargo of silver dollars here in a shipwreck. It's thought that the odd coin still washes up on the shore after fierce weather, so take your spectacles with you!
There's plenty of walking routes around Gunwalloe, but one of the best is Loe Bar to Dollar Cove. It's only around 5 miles long and takes in many of the sites mentioned above, including an ascend to Halzephron Cliff.
(Photo by Greg Willson on Unsplash)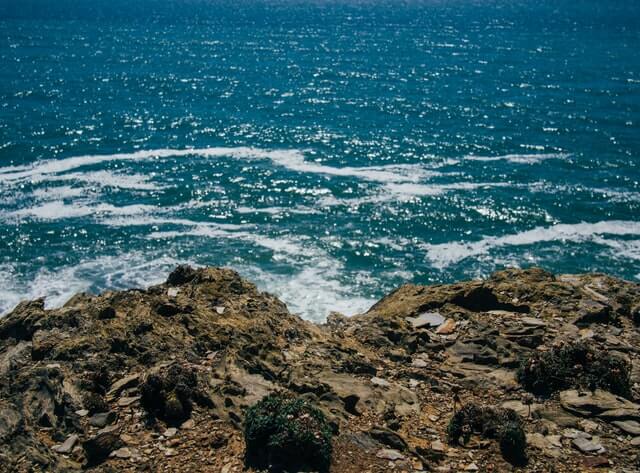 Porthcothan Beach
Flanked either side by Newquay and Padstow is Portcothan Bay, a northwest-facing beach backed by sedgy dunes.
It's often described as the hidden gem of Cornwall's Seven Bays, thanks to its secret rock pools, coves, and majestic lagoons. So, what better place to film Poldark! Portcothan is Nampara Cove's double, used to capture Ross Poldark galloping on horseback across fictional 'Hendrawna Beach'.
If you're heading north to Padstow, we recommend walking from Portcorthcothan Bay to Porth Mear. This route gives you irresistible views of the Trescore Islands, a rugged, rocky inlet that runs into the Celtic Sea. The trail also takes to you to Park Head, a short walk from the Bedruthan Steps. Legend has it that a giant called Bedruthan used these wave-swept beach stacks as steppingstones to the bay. Less inventive stories say the steps are named after the original cliff staircase, rebuilt by the National Trust in recent years.
The final section of the route descends to Mawgan Porth, an idyllic stretch of golden sands sheltered on both sides by grassy headland. The Times once ranked Mawgan Porth as one of the top ten holiday beaches in Cornwall, and it's clear why. Take the kids for a spot of rock pooling in the stream that snakes through the sand, or head to the bay's caves for some Poldark-inspired exploration!
(Photo by visitcornwall.com)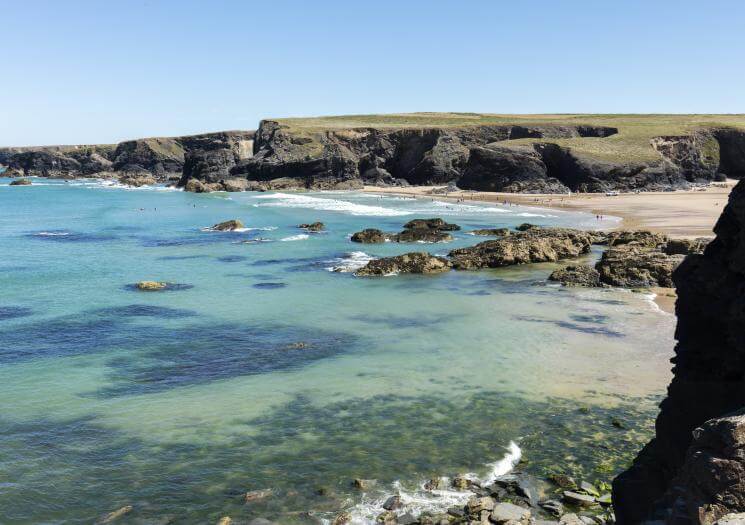 Find your base in Poldark country
Have you fallen in love with the dramatic scenery used in Poldark? You don't have to say goodbye. Choose a Willerby holiday home or lodge, and you can keep coming back for more.
See the Willerby quality for yourself with a visit to one of our showgrounds. There's no better way to find out first-hand what it's like to relax in luxury and get an authentic feel for park home living.
Alternatively, get started with our latest Willerby brochure.