The best and worst regions for retiring in the UK
30 August 2017
Retiring is a huge moment in your life. After 50 years, maybe even 60 years, of working life, you are now set for a new adventure that will define who you are and how you are remembered.
Living in the right area then will be imperative. As a newly retired, you will find that retiring is certainly not an easy task. First you have to adapt to life on a pension, then, no doubt, you will want to surround yourself with likeminded, retired people.
That's before you even consider things like average house prices for a region, crime and the type of crime in the area, hospital ratings and (whisper it!) care homes. There is so much to consider that it can actually be quite overwhelming.
To help make the process of deciding where to retire a little easier, we've had the busy bees at Willerby HQ analysing the data. Pouring over statistics ranging from hospital ratings to crimes per 1000 people, we've put together a formula to find Britain's best and worst regions and counties for retiring.
Read our Methodology to find out how we collected the data and how we performed the study at the bottom of this article.
Which English region is the best for retirement?
England has a region for every type of retiree. The North West offers rambling in the beloved Lake District, the South West coast offers the chance to sun yourself on the beach and the North East's country parks offer the peace and tranquillity lots of us crave in the later periods of our lives. But which region has the most expensive house prices? Which region has the worst rime rate? And which region's care homes are performing way below par? Let's find out.
The best region to retire
Home to sandy beaches, the great Dartmoor moorlands and the prehistoric Stonehenge monument, it was the South West of England who came out on top in our analysis. Picking up a score of 76.47 out of 100, there are several key reasons for such a strong performance in this region. These include:
Lowest crime rate in England with a score of 69.80 crimes per 1000 people
Highest percentage of over 65 year olds with over 21% of the population aged 65 or above
Second highest life expectancy in the UK
Third highest reported happiness rating in the UK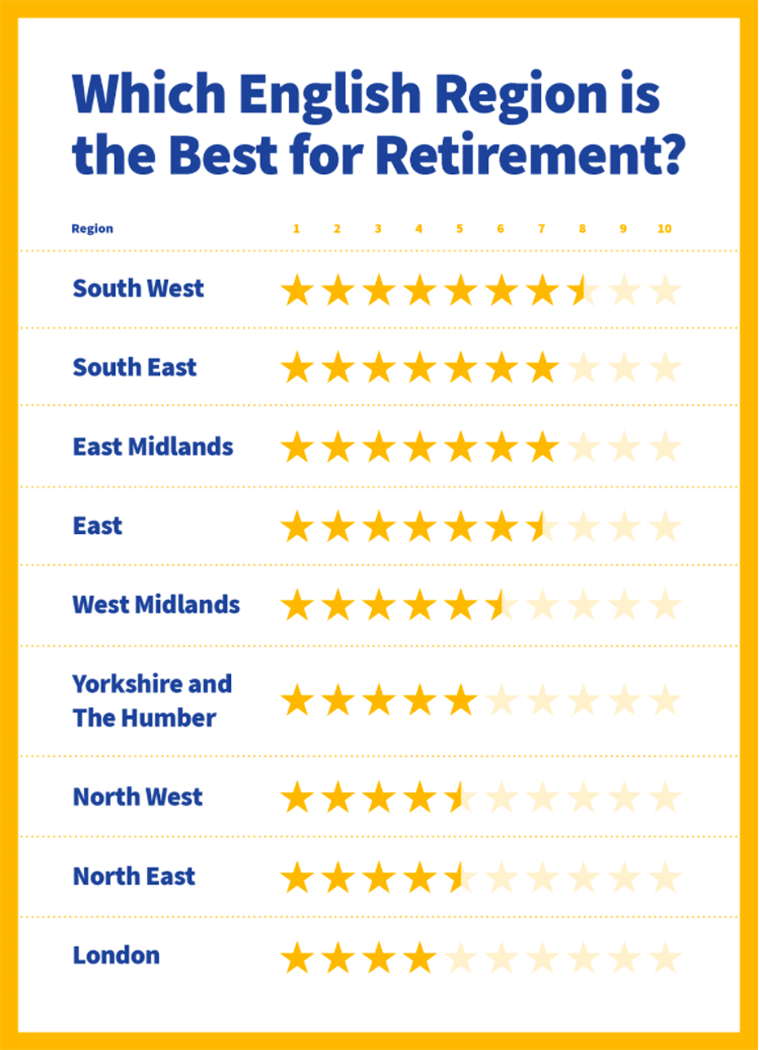 The worst region to retire
As the home of Britain's most famous pensioner, it was quite a surprise to see London perform so badly in our analysis. Scoring a rating of only 39.21 out of 100, London does have several key faults that will make it a difficult region for the newly retired. These include:
The highest average house prices in England at £569,152
The highest crime rate in England at 87.90 crimes per 1000 people
The lowest percentage of those aged 65 or over in England at 11.51%
The third lowest reported happiness rating in England
The best and worst English counties for retirement
Discussing which is the best county in England can often be the cause of many a fierce disagreements. Never, for example, bring up the battle of the roses to a Yorkshireman. Refrain from asking someone from the Merseyside how many premier league trophies they've seen. And whatever you do, never, ever, mention that maybe, just maybe, the Cornish pasty originated in Devon.
While these petty arguments will always be the cause of bitterly entrenched views about which is the best county to retire in, we're interested in what the data says. Let's take a look.
The best county to retire
Home to more canals than any other county, the world famous oatcake and the exhilarating Alton Towers, is it any wonder Staffordshire finishes top in our county analysis? Scoring a record high of 81.04 out of 100, the county performs strongly in each category but does, surprisingly, fail to take the top spot in any of the datasets we analysed. So why did it finish top?
Third highest hospital ratings in the UK
Reasonable average house prices compared to other counties
Low crime rate of 16 crimes per 1000 people
High reported happiness rating of 7.71
High percentage of those aged over 65 at 23.34%
The worst county to retire
With neighbours like Noel Edmonds, Iain Duncan Smith and Sharon Osbourne, how could you ever resist the calling of a Buckinghamshire retirement? Well, before you start up the moving van, let's analyse the data. Scoring a 21.56 out of 100 in our analysis, Buckinghamshire finished up as the worst place in England to retire. So why did it score so low?
Third highest house prices in England at an average of £408,548
Third highest crime rate in England with a score of 35 crimes per 1000 people
Second lowest percentage of those aged 65 or over in the UK at 13.20%
Second lowest reported happiness rating in England
Methodology
All statistics that feature in this article have been collaborated using open data from the Office for National Statistics. By analysing variables such as life expectancy, house prices, hospital ratings, crime, happiness and population, we have given each region and county a percentage rating. The higher the rating the better that place is for retirement purposes. For each category we ranked the regions/counties from 1-9 (regions) and 1-48 (counties) based on how they performed in each category. If you would like to access the full and raw dataset please email scott.taylor@reckless.agency or visit the google document here: Google link here
Please note that Willerby acknowledges that the information included in this blog is based on their interpretation of the data presented.