Around the coast in 80 days
03 May 2020
In our house, we love a staycation! There really is nothing quite like a coastal break with the dogs, they love the coast and beach walks just as much as we do.
There is so much to see in the UK from Anglesey's beautiful beaches to picturesque cornish waterfront towns and villages, and then you can't forget the vast wild landscapes of Scotland's Highlands.
When I was kindly sent a copy of Around the Coast in 80 Days by Peter Naldrett, I knew it was a book I would enjoy and one that would fill me with wanderlust.
Around the Coast in 80 Days is an indispensable guide to the very best of Britain's coastline. Whether you have just an afternoon, a whole day, a free weekend, or a whole week to explore the wonders of the UK, this book is a great guide to 80 of the most interesting, fun and charming seaside spots our coast has to offer. Starting at Liverpool, one of the most fashionable tourist destinations in Europe, the book travels clockwise up to Scotland, down the east coast, across the southern shores, up through Wales and back to the northwest of England.
This book calls in at some of my favourite locations and includes coastal walks such as seeing the puffins at Bempton Cliffs, chowing on some delicious Cromer crab and strolls along the pier at Llandudno. Each chapter provides insights into the history, culture and key features of each place, how to get to there, where to eat – including the best places for fish and chips, and where to stay.
This book is a must for those who like to get off the beaten path, and have a more local, richer travel experience no matter your UK destination. It features fun facts, culture, history and events to look out for at your chosen destination.
It is certainly a book that we will be using for our trips, once we are able… maybe we will try and complete all 80 of them as Peter did when writing this exceptional book.
We have five copies of this book to give away, get your hands on a copy by entering our competition online - click here
Use our link to gain a great discount with 30% off the book and 45% off the ebook which you can find here.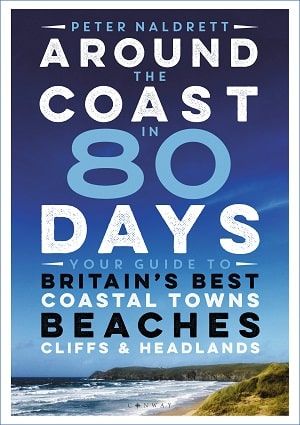 Around the Coast in 80 Days by Peter Naldrett is published by Bloomsbury and is out now in hardback and ebook (Hardback:£16.99)