8 Of The Best Yorkshire Cycling Routes For Everyone | Willerby
05 July 2021
On your bike!
If you hear those three little words from the lips of a Yorkshire native, it can mean one of two things: they're telling you (somewhat politely) to go away or expressing their pride in "God's own country".
At Willerby, we're a bunch of Yorkies who are very much in the second camp. So, in this article, we're going to feature just a few of the fantastic cycle routes you'll find between the Humber and the Tees, the Pennines and the North Sea in Britain's biggest modest county.
We'll include an easy(ish) route and a more challenging one for each area, encompassing dales, moors, cities, historic towns and remote villages. We'll even throw in some coast roads, steep climbs and winding country lanes for good measure.
As we guide you through the land of the white rose, you'll start to understand why the Tour de France chose Yorkshire for its first two stages back in 2014. There's something here for every cyclist — whether you see yourself as a Sunday trundler or the next King/Queen of the Mountains.
Ready to get pedalling? Let's start in home country for the Willerby team: Yorkshire's East Riding.
East Yorkshire cycle routes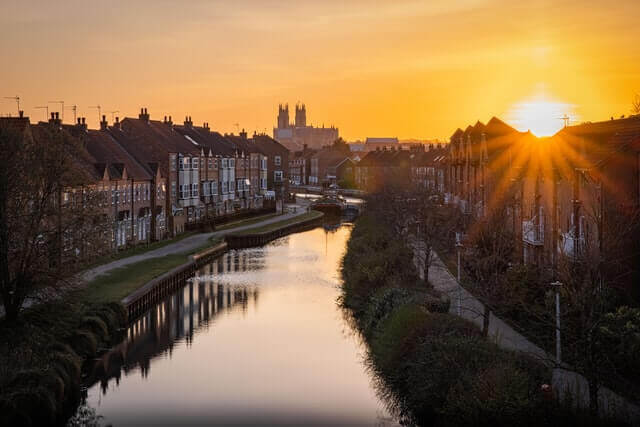 This 19-mile route is a roughly two-hour tour starting in the historic town of Beverley, famous for its racecourse and spectacular gothic Minster. It was one of England's wealthiest boroughs in the Middle Ages and retains that medieval air with lovingly preserved ancient streets.
This route starts and finishes at Beverley station and heads northwest through the stunning villages of Cherry Burton and Etton, around Dalton Hall Park and Gardens, then back to Beverley. It's a relatively easy route, suitable for most cyclists, and described by the experts as "just enough to test your legs".
Up for a more challenging "Tour de Yorkshire"? The Wolds are far less famous than the Dales, but their rolling chalk hills have a unique gentle beauty of their own, celebrated by the great David Hockney in a renowned series of paintings.
This is a 146-mile route, but you can easily choose a section if you don't fancy the entire 18-hour ride.
As well as Beverley, route highlights include:
Malton, Yorkshire's foodie capital, close to the Howardian Hills and the magnificence of Castle Howard.
Driffield, the Capital of the Wolds.
Bridlington, where the route hits the sea, arriving at North Beach
It's perfect cycling country all the way, taking in a wealth of East Yorkshire sights, including Market Weighton, Pocklington and the hall and gardens at Burton Agnes. Our advice is to take your time and enjoy the views. You'll never be far from a tempting stop at a welcoming country pub or quirky café.
North Yorkshire cycle routes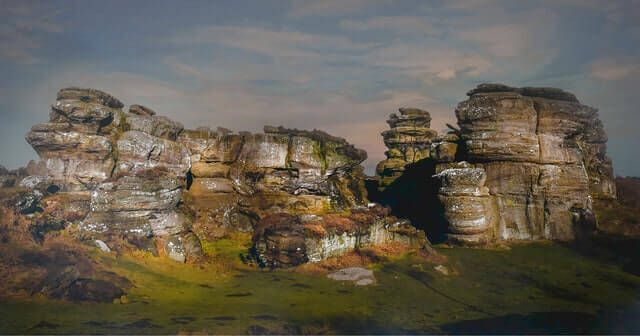 3. Harrogate to Fountains Abbey, Brimham Rocks and back
This is a relatively easy 28-mile route, starting in the cycling mecca of Harrogate, a Victorian spa town famous for its high-end shopping and the queues for cakes outside Betty's Tea Rooms. It was recently voted the happiest place in Britain.
The ride takes you to the amazing World Heritage Site nearby, containing the romantic ruins of Fountains Abbey and Studley Royal water gardens.
You'll also pass through Brimham Rocks. Equally famous for spectacular rock formations and abundant birdlife, it's a gateway to the Nidderdale Area of Outstanding Natural Beauty and the Yorkshire Dales National Park.
Fancy a mountain-biking diversion while you're in the area? The Brimham Blast is a short but strenuous adventure with some rugged bridleways. Make the trip, and you'll earn views that are awe-inspiring even by Yorkshire standards.
4. High Hill Lane to Kilnsey Crag loop from Settle
If you can cope with a 50-mile round trip featuring steep climbs and fast descents, you're in for some (literally) breath-taking views — as well as reasonably sore legs.
The anti-clockwise route around the loop starts on the cobbled streets of Settle, with a steep descent into the village of Kirkby Malham. The ride takes you past the cliffs at Kilnsey Crag, popular with rock climbers, and on to one of Yorkshire's famous three peaks, Pen-y-Ghent, before returning you to Settle for some hard-earned refreshment.
West Yorkshire cycle routes
This short, mainly flat and traffic-free route is ideal if you're cycling with children or inexperienced adults. Running between Huddersfield and Dewsbury, the most peaceful section follows a disused railway corridor. The rest is quiet roads, and there's a riverside path to the finish. And if the gritty town names make the route sound a bit "grim up North", you're in for a lovely surprise: it's semi-rural riding most of the way.
Start at Huddersfield station and follow the signs for National Cycling Route 69. Cross the spectacular 15 blue brick arches of the Bradley Viaduct, and you can detour along a public bridleway to Dalton Bank Local Nature Reserve. At Colne Bridge, the route officially becomes the Calder Valley Greenway, National Route 66, taking you to Dewsbury via Mirfield, Ravensthorpe and the Lower Spen Local Nature Reserve. The final stretch to Dewsbury station is a delightful riverside ride.
6. Bolton Priory loop from Kirkstall Forge, with Wharfedale views
Kirkstall Forge railway station is the starting point, so you're cycling in Leeds at first, but not for long. At just under 50 up-hill-and-down-dale miles, this intermediate-level route demands fit legs and plenty of puff. You'll be out of the city almost immediately and climbing Old Pool Bank with stunning vistas to distract you from the steepness.
Otley comes; next, a cycling-mad little town, packed with independent cafés and where Olympic silver medallist Lizzie Armistead was born. From Otley, the highway heads north towards the ruins of 12th century Bolton Priory in its vast grounds. Keeping your eyes on the road is quite a challenge with gorgeous views over Wharfedale all the way.
Cycling around Sheffield and South Yorkshire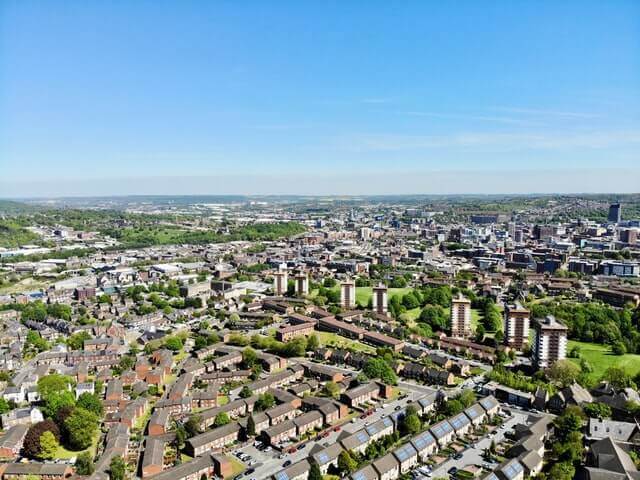 7. The Trans Pennine Trail, Penistone to Dunford Bridge
One of the beauties of this part of Yorkshire is its proximity to the hills and high moors of the Peak District. This scenic, traffic-free, entirely off-road route takes full advantage and is suitable for cyclists of all ages and skill levels. You'll be riding on fully-surfaced paths all the way.
Start at the station in the bustling market town of Penistone, near Barnsley. It takes you west along a section of the Trans-Pennine Trail, following the route of a disused railway line. Pause from pedalling to enjoy the magnificent views across the valley and the sheer profusion of wildflowers.
Pass through a marvellous Magic Wood, just beyond Hazlehead Bridge Station, enjoy some wildlife spotting at Wogden Foot Nature Reserve, then head across moorland to the remote village of Dunford Bridge. There's a picnic site there if you're ready for a break, before biking back to Penistone.
8. Lady Canning's Bridleway – Longshaw Estate Loop from Sheffield
If you like your cycling routes hilly, you're going to be happy in and around Sheffield. The natives love to boast that it's built on seven hills, just like Rome, and there are plenty more climbs in nearby Derbyshire.
This 40-mile route is on the strenuous side, so mainly for seasoned cyclists. Starting at Sheffield station, it takes you west via Lady Canning's Plantation, a woodland area with a recently constructed bridleway and fabulous views over the city.
There's a traditional café with outside tables at Grindleford Station; then, you'll find yourself riding through the ancient woods and tumbling streams of the National Trust-owned Longshaw Estate country park.
The return ride towards Sheffield takes you along various gravel trails and single-track paths, with some especially scary/exhilarating descents at Clough Lane.
Serious about cycling? Grab one of these free apps
We can do no more than whet your appetite for Yorkshire's wealth of cycling delights here, but if you want more ideas and inspiration, the many freely available route planning and performance tracking apps are a great place to start.
And, of course, if you're the proud owner of a Willerby holiday home in and around Yorkshire, the other option is to climb onto the saddle and start exploring for yourself. Getting slightly and temporarily lost is one of the joys of discovering beautiful new places.
The first step is to find the perfect holiday home as your base for a lifetime of cycling adventures. We can help by guiding you through the wealth of stunning holiday parks in Yorkshire and throughout the other beautiful bits of England, Scotland, Wales and Northern Ireland.